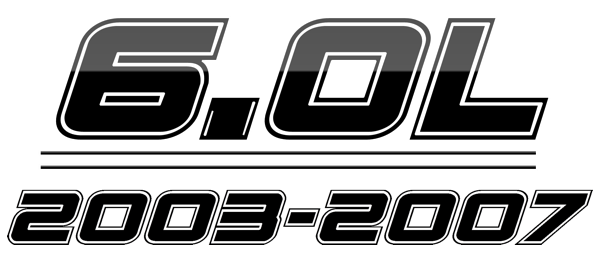 The 6.0L is a favorite of ours at Absolute Power Stroke. We believe it has the best combination of power, reliability and cost of ownership. Although it has a reputation to be troublesome and unreliable, we believe that it has a special place in history. It has the ability to start very well in the cold, make lots of power and get great fuel mileage. With the proper upgrades, this engine can be a very reliable performer while used as a daily driver or as a tow rig. The 6.0L equipped Super Duty's are modern, comfortable and durable trucks.

Lack of maintenance, as usual, can plague a 6.0L into costly repairs and downtime. One of the biggest issues we see in our shop is inadequate repair procedures performed while using inferior, cheap parts. Almost always, OEM parts are the best choice when repairing these engines. Usually other shops focus on fixing the result of a failure, not the cause. This is especially true for the 6.0L. Endless hours can be wasted if the proper diagnostic routines are not performed for the specific symptoms. Throwing parts at this engine in hopes of solving the issue will only run up the repair bill. If this engine is maintained and repaired properly, with the proper parts, it has the durability to last for hundreds of thousands of miles.
---
Price List
Some services can be combined for savings in labour. Prices reflect single services for a single price. Please call for more details and see how we can help today.
| Service Offered | Price |
| --- | --- |
| Engine Oil Change: 15W40 and Motorcraft oil and filter | $120 |
| Fuel Filter Service: Motorcraft filters | $196 |
| Coolant Flush: Includes extended life coolant, thermostat, rad cap, flush kit | $259 |
| Rear Differential Service: SRW 75W140 Synthetic oil | $180 |
| Front Differential Service: SRW 80W90 oil | $120 |
| Rear Pinion Seal: SRW | $163 |
| Front Hub Seals: SRW 2003-2004 both sides | $442 |
| Front Hub Seals: SRW 2005-2007 both sides | $356 |
| Glow Plugs replaced: 8 Motorcraft plugs | $444 |
*Please call to confirm prices.
---